When we talk about Christmas we talk about family, celebrations, friends, gifts, illusion … and how could it be otherwise, when we talk about Christmas we talk about Christmas sweets.
In Spain these include the traditional Polvorones, Mantecados, and Tortas de Alfajores. Enjoying these delights after a meal with family or friends is one of the most deeply rooted traditions in Spain and one of the most special times of Christmas.
Although each region has its favorite Christmas sweets, we can say that the most popular in Gaucín are, without a doubt, Alfajores, Tortas de Piñonate and Mantecados, most of which can be purchased from the Panederia Calvente Godino at Calle Tenería, Gaucín.
The recipes that follow are from the book by Gaucin resident María Calvente Mendoza «María and Miguel, Recipes and Poetry to taste.»
Tortas de Piñonate Recipe

Ingredients:
• 1 Kg. peeled almonds
• 1 kg. walnuts
• 1⁄4 Kg. hazelnuts
• Pine nuts
• 50 grs. cloves
• 125 grs. aniseed seeds
• cinnamon
• Dried orange peels
• 12 eggs
• 1⁄4 liter aguardiente
• 3 liters of honey
• Some flour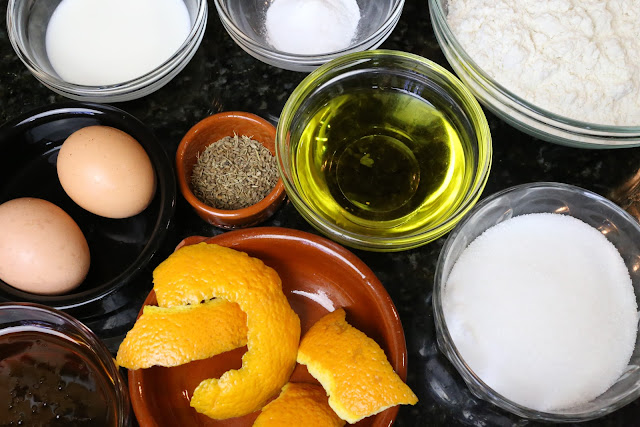 Preparation:
All dry products are toasted in the pan and then ground.
The cloves, aniseed and cinnamon, are also roasted a little and ground. All the above are then mixed and left aside while the noodles are made.
To make the noodles the egg whites are beaten until they stiffen and then added to beaten egg yolks. Aguardiente and flour are added and then this mix is kneaded until the dough becomes firm enough to make the noodles which are fried in warm oil. When they are all fried and cooled, they are cut into small pieces .
The honey is then heated in a large pot and gently heated whilst ensuring that it does not burn. To know when the honey is at its set point, take a teaspoon of honey and pour it into a dish with water, if the honey becomes hard enough to make a ball with your fingers, it is already at its point.
Finally the noodles, ground nuts, spices and orange peel are added to the honey with great care and speed, stirring rapidly to avoid curdling. When everything is well mixed, the mixture is poured into bottomless round molds until hardened and cool. The cakes are then removed from the mold and drizzled with some warm honey and a sprinkling of pine nuts and aniseeed.