When we talk about Christmas we talk about family, celebrations, friends, gifts, illusion … and how could it be otherwise, when we talk about Christmas we talk about Christmas sweets.
In Spain these include the traditional Polvorones, Mantecados, and Tortas de Alfajores. Enjoying these delights after a meal with family or friends is one of the most deeply rooted traditions in Spain and one of the most special times of Christmas.
Although each region has its favorite Christmas sweets, we can say that the most popular in Gaucín are, without a doubt, Alfajores, Tortas de Piñonate and Mantecados, most of which can be purchased from the Panederia Calvente Godino at Calle Tenería, Gaucín.
The Alfajores is a sweet with an Arab tradition, with many centuries of history and a recipe that has been passed down from generation to generation. It was originally called, and is still called, "alajú", which comes from the Arabic term 'al-hasú' (filling). In addition, the Andalusian alfajores are typical of Christmas. Its presence in southern Spain has been known since the 12th century and its popularity was such that alfajores were in the warehouses of the first Spanish ships that traveled to America.
The recipes that we leave you next is again from the book by María Calvente Mendoza «María and Miguel, Recipes and Poetry to taste.»
Ingredients:
• 2 liters of honey
• 1 Kg. Of toasted and ground bread (the exact quantity will depend on the amount of nuts used, the more nuts used the less bread needed)
1.5 kg mixed nuts:
• Walnuts
• Almonds
• Hazelnuts
• Pine nuts
• Dried orange peel
• Flour
• 25 grs. cloves
• 125 grs. Aniseed
• Ground cinnamon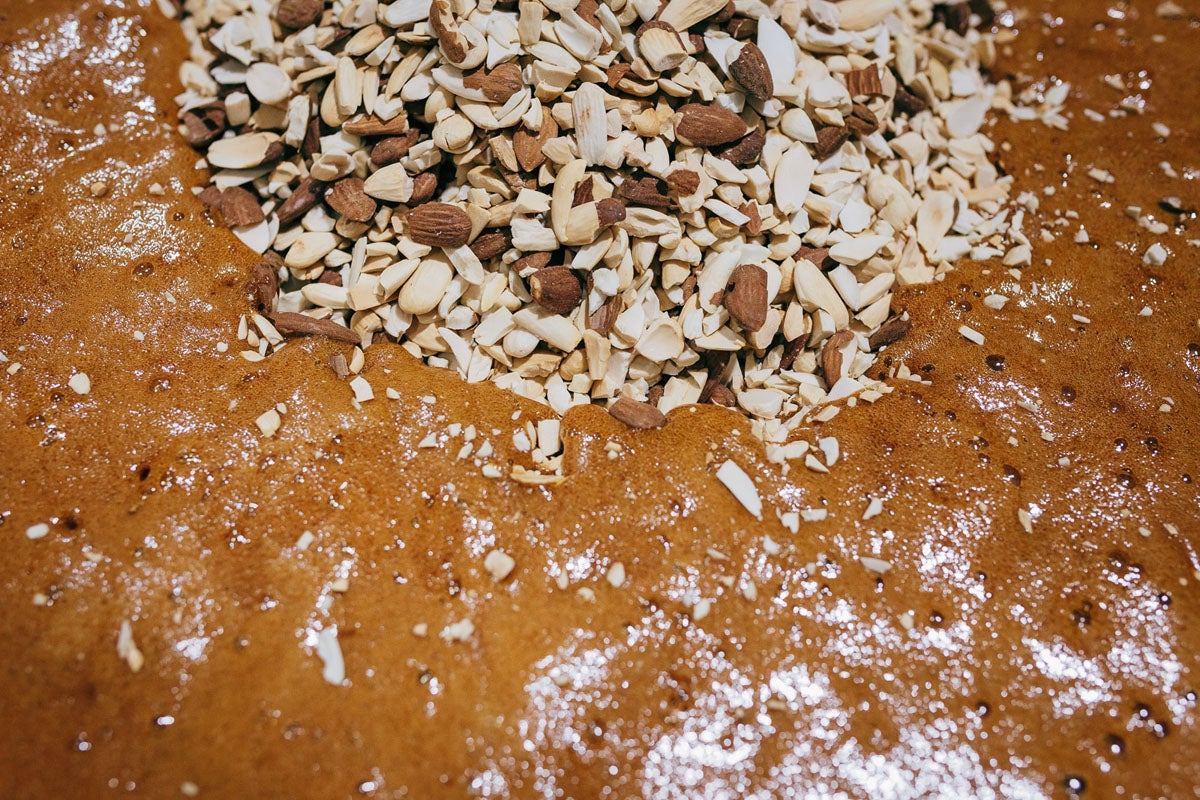 Preparation:
All the nuts (hazelnuts, walnuts, almonds, pine nuts) must be toasted a little in the pan and chopped in the mincer. You also have to heat the spices (cloves, aniseed and orange peel) and grind them. These ingredients are then mixed together.
The honey must then be heated until simmering and it's set point is reached. To know if the honey is ready, add a few drops of the boiling honey to a plate of cold water and if you can form a soft ball with your fingers it means that the honey is at its point. Then it is time to slowly add the honey to the ground nuts and spices, you have to add it little by little, whilst stirring so that it does not burn. Once the mixture is well stirred, the grated and ground bread is added and mixed until a dough is formed. This bread is available in many bakeries, especially ground and toasted, for alfajores.
To make the Alfajore you take a piece and with the palm of your hand, mould it into a long round shape rather like a thick pencil. Then place them all on a tray and rub them with a little sugar and roll them on special thin colored paper. This special paper can be bought in large sheets, which are then cut to make fringes on the sides to make it more beautiful.